Insight Millennium Thermography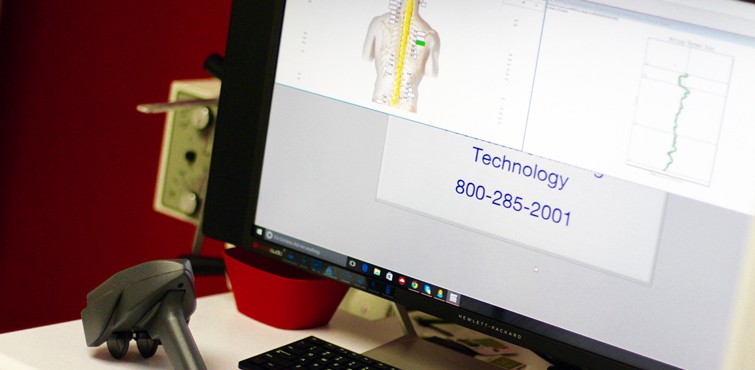 Chiropractic Leadership Alliance (CLA) offers chiropractic technology that has been specifically developed to accomplish just that. CLA's comprehensive INSiGHT™ scanning technologies has been certified by the Space Foundation to prove a reliable, scientifically valid, quantitative and multidimensional representation of patient well-being.  Chiropractors can now analyze a patient's condition more accurately, communicate findings more effectively – while allowing both the doctor and patient to track the effectiveness of treatment.  The INSiGHT™ system also produces a detailed chiropractic report of findings that patients can use as a building block to map their progress as they pursue a healthy lifestyle.  CLA's INSiGHT™ Technology can detect hidden patterns of stress and tension, shedding a light on internal changes in the body.  By establishing a baseline and identifying potential problem areas, the INSiGHT™ technologies help chiropractors determine the most effective path when caring for each patient.  Chiropractors and their patients can instantly review their results in a colorful, easy-to-understand report.  This report brings to life the importance of chiropractic care for the individual.  Daily stress can damage health by creating fatigue, back pain, lowered stress resistance and weight gain.  Accurately measuring the effects of stressors on the nervous system allows practitioners to provide patients with better care and more tangible feedback.  This provides the sort of ongoing value that turns one-time patients into long-term advocates.
---
Top of page
Neuromuscular Rehabilitation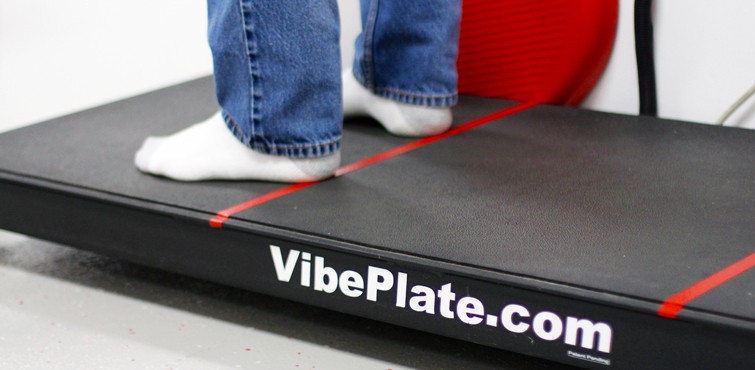 Neuromuscular Rehabilitation treats a wide variety of musculoskeletal and neuromuscular conditions using various non-invasive procedures.  In many cases this allows us to delay or potentially eliminate the need for invasive surgeries.
Purchase your own VibePlate
---
Top of page
Nutritional Counseling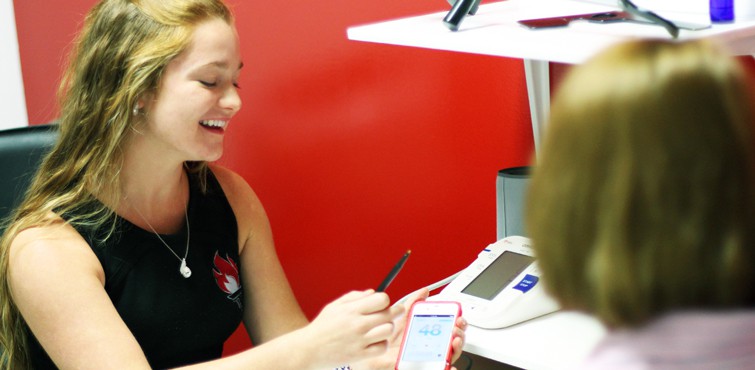 A good nutrition consultation shouldn't feel like a lecture about what you should be doing, and you shouldn't feel as though you're being scolded or judged on your eating habits, either.  At Liberation, we strive to make nutrition counseling as enjoyable and helpful as possible.  We take the time to listen closely and to understand where you are right now in terms of your lifestyle and diet, and work with you to help achieve your goals.
Who Can Benefit from a Nutrition Consult?
Lots of people can benefit from working with a nutrition expert, for many different reasons–whether you need a complete diet overhaul, are looking to manage a medical condition, want to fine-tune your food choices, or get inspiration for new, healthy recipes.  It's best to book a nutrition consultation after a check-up with your primary care provider.  That can help inform whether you have any specific conditions that can be addressed with nutrition, such as elevated blood sugar or cholesterol, or blood pressure issues.
While some patients come in for a nutrition consultation to learn more about how their food choices affect their health, others end up in our office at their doctor's suggestion.  The following are just a few of the conditions that can benefit specifically from dietary interventions:
Heart disease
High blood pressure
High cholesterol
Allergies
Diabetes and pre-diabetic conditions
Irritable bowel syndrome (IBS)
Celiac disease
Obesity or overweight
Pregnancy
---
Digital Motion Xray (DMX)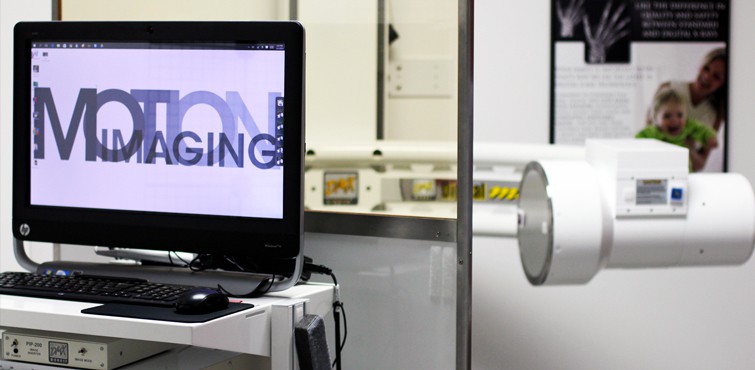 Advanced diagnostic imaging offers tremendous benefits to patients.  Digital Motion X-ray, also known as DMX is an innovative new imaging system combining time tested and proven fluoroscopy with modern digital technology to dramatically reduce radiation exposure the patient while creating sharp precise video of the patient live and in full motion.  To put it in perspective, one full DMX study is less than 1/6 the exposure of a CT scan.
---
Top of page
NAOMI DR digital X-ray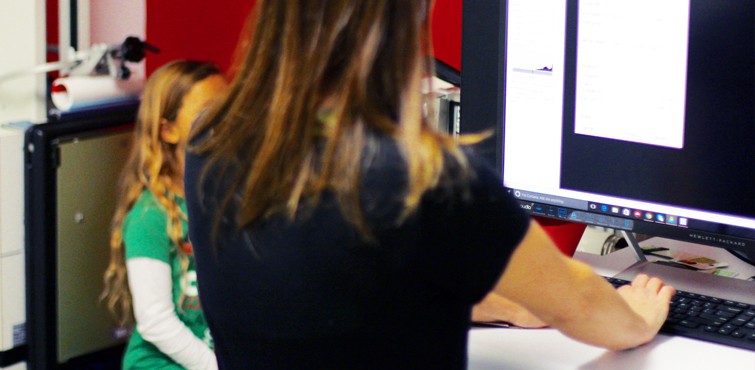 Digital radiography is a form of x-ray imaging where digital x-ray sensors are used instead of traditional photographic film.  Advantages include time efficiency through bypassing chemical processing, reducing waste and retakes, and the ability to digitally transfer and enhance images as needed.  Also, less radiation can be used to produce an image of similar contrast to conventional radiography saving you and your family unnecessary exposure with standard x-ray systems.  Instead of x-ray film, NAOMI digital radiography uses a digital image capture device.  This gives advantages of immediate image preview and availability; elimination of non-environmentally friendly processing steps; a wider dynamic range, which makes it more forgiving for over-and under-exposure; as well as the ability to apply special image processing techniques that enhance overall display of the image.
---
Top of page
VibePlate Vibration Integrated Therapies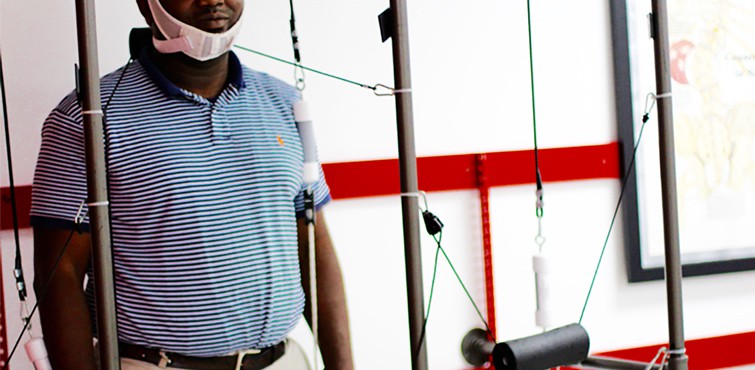 Vibration healing (also called vibration therapy) is the use of mechanical vibration to prevent, treat, and promote recovery from a variety of physical ailments, including pain, sports injuries, and bone density loss.
Vibeplate vibration therapy involves the application of vibration to part or all of the body at correct frequencies to achieve numerous health and rehabilitation benefits simultaneously.
Ancient Greeks promoted vibration therapy to heal the local stagnation of blood (bruising) and increase joint mobility (arthritis).  Practitioners created vibration by placing a long piece of wood, which an assistant held, over the affected area.  The practitioner would then use the patient's body as a stabilizer and saw the wood; vibrations of this motion would be transferred to the affected area.  In 16th Century Japan, a popular book advocated the use of percussion and vibration massage to improve rheumatic complaints and encourage the healing of broken bones.  Over 40 years ago, the Russian space program noticed that astronauts returning from space experienced bone fractures and bone mass loss much earlier than their earth-bound counterparts.  The Russians used whole-body vibration devices to help build up the bone mass of astronauts.  NASA (the National Aeronautics and Space Administration) has used vibration therapy to prevent the loss of bone mass in astronauts, particularly females, who are more prone to osteoporosis.
---
Top of page
Specialized Distraction Counter-torque Scoliosis Chairs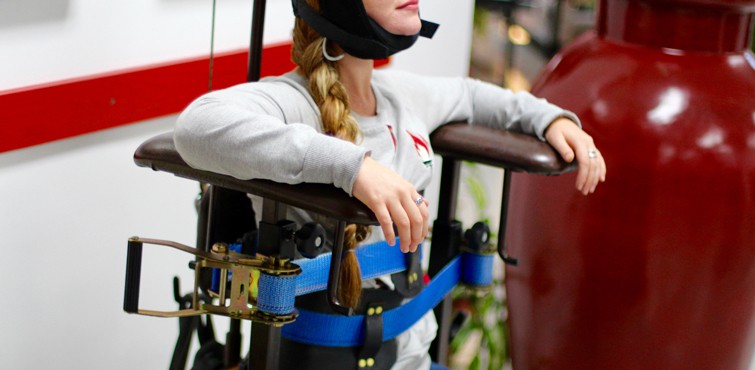 The Scoliosis Traction Chair is designed to be the ultimate tool to address and rehabilitate the scoliotic spine, especially once it has reached the advanced stages (i.e., the Cobb angle is above 30 degrees).  Research and Digital Motion X-ray have demonstrated the effectiveness of Scoliosis Chair Traction.
---
Top of page
Arthrostim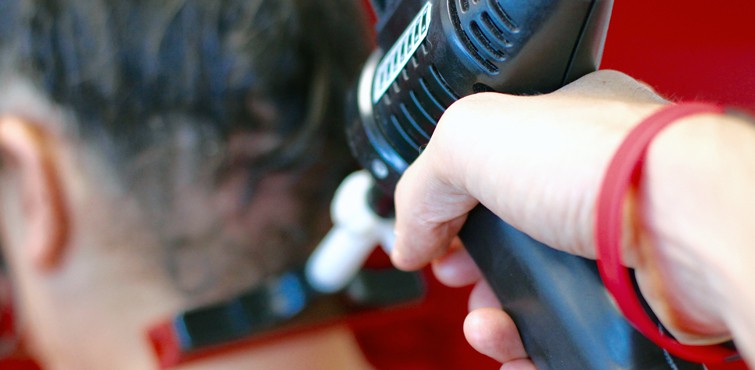 An Arthrostim® adjustment involves the use of one of these special instruments.  It has an appearance similar to a drill, and is held in a similar manner. What it does is produce a speedy thrust and recoil motion, similar to the way a Chiropractor uses their hands to adjust the vertebrae in your spine.  The benefit of the instrument is that it performs this high-velocity, low-amplitude motion 12 times per second, and is targeted to a very small area.  The force of the thrust radiates through the joint and the tissues that surround it, releasing trigger points that are often the cause of muscle spasms.
As opposed to traditional chiropractic adjustment techniques, use of the Arthrostim® does not cause the same popping and cracking noises in the joint that can make some people feel uneasy.  It is a gentle, mechanical method of easing the joints back into alignment that is basically an extension of the Chiropractor's hands. Your Chiropractor can exert just the right amount of pressure needed by adjusting the force of the thrust up or down from merely a few ounces all the way up to 40 pounds, and it works on a wide range of body areas, not only on the spine.  (NOTE:  The Doctors at Liberation Chiropractic do not use Arthrostim only to adjust.  Our doctors first use hands on Chiropractic techniques, but also incorporate this excellent tool as needed.)
Several studies have shown that instrument adjusting is just as effective as traditional chiropractic techniques for easing pain and increasing range of motion in patients who have sought chiropractic care. Its speed, gentleness and accuracy are also recommended for populations that may have trouble with the use of traditional chiropractic techniques, such as children and the elderly.
The Arthrostim's® movement stimulates the patient's special sensory nerve receptors, called proprioceptors, which are responsible for detecting the proper motion and alignment of the body's muscles and joints, signaling that all is well; however, at the same time it avoids stimulating the nociceptors, the sensory nerve receptors responsible for sending pain signals to the central nervous system.
The use of instrument adjusting, such as with the Athrostim®, allows for fewer side-effects and less post-treatment muscle soreness. If this seems like a form of treatment you may be interested in, consult with your Chiropractor and ask if it may be possible to incorporate Athrostim® adjusting into your treatment regime.
---
Top of page
Aspen Pinnacle Class 4 Laser Therapy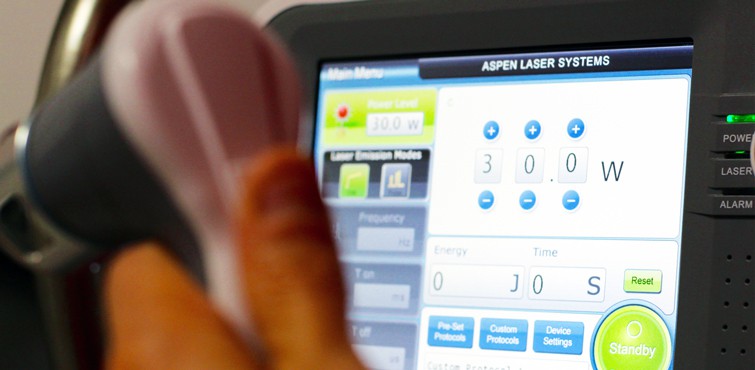 The Pinnacle Series is the flagship of Aspen's laser systems.  Boasting a wattage range of 1 to 60 watts of output power, you can hone in on practically any health condition and treat with confidence, speed, and results.  By simply switching probes and changing treatment protocols in the easy to use touch screen software, the Pinnacle Laser System will stay busy working all day long regardless of patient condition or procedure needed.  The versatility and power of the Pinnacle Laser System has made it the sought after laser system by many medical and chiropractic practices.
Clinical benefits of Laser Therapy include:
1. Anti-Inflammation: 
Laser therapy has an anti-edemic effect as it causes vasodilation, but also because it activates the lymphatic drainage system (drains swollen areas). As a result, there is a reduction in swelling caused by bruising or inflammation.
2. Anti-Pain (Analgesic): 
Laser therapy has a high beneficial effect on nerve cells which block pain transmitted by these cells to the brain and which decreases nerve sensitivity. Also, due to less inflammation, there is less edema and less pain.
3. Accelerated Tissue Repair and Cell Growth: 
Photons of light from lasers penetrate deeply into tissue and accelerate cellular reproduction and growth. The laser light increases the energy available to the cell so that the cell can take on nutrients faster and get rid of waste products.
4. Improved Vascular Activity: 
Laser light will significantly increase the formation of new capillaries in damaged tissue that speeds up the healing process, closes wounds quickly and reduces scar tissue.
5. Increased Metabolic Activity: 
Laser therapy creates higher outputs of specific enzymes, greater oxygen and food particle loads for blood cells.
6. Trigger Points and Acupuncture Points: 
Laser therapy stimulates muscle trigger points and acupuncture points on a non-invasive basis providing musculoskeletal pain relief.
7. Reduced Fibrous Tissue Formation: 
Laser Therapy reduces the formation of scar tissue following tissue damage from cuts, scratches, burns or surgery.
8. Improved Nerve Function: 
Slow recovery of nerve functions in damaged tissue can result in numbness and impaired limbs. Laser light will speed up the process of axonal regeneration, nerve cell reconnection, and increase the amplitude of action potentials to optimize muscle action.
9. Immunoregulation: 
Laser light has a direct effect on immunity status by stimulation of immunoglobulins and lymphocytes. Laser Therapy is absorbed by chromophores (molecule enzymes) that react to laser light. The enzyme flavomono-nucleotide is activated and starts the production of ATP (adenosine-tri-phosphate), which is the major carrier of cell energy and the energy source for all chemical reactions in the cells.
10. Faster Wound Healing:
Laser light stimulates fibroblast development (fibroblasts are the building blocks of collagen, which is predominant in wound healing) in damaged tissue. Collagen is the essential protein required to replace old tissue or to repair tissue injuries.
---
Top of page
PostureScreen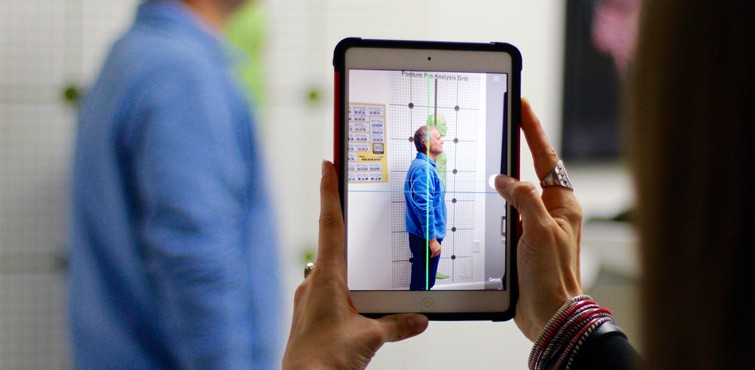 The best and most popular posture and movement analysis software on the market is always in the palm of your hand. Designed for fitness professionals, chiropractors, physical and manual therapists who wish to screen for movement & postural dysfunction and prescribe corrective exercises.
---
Top of page
Health Risk Assessment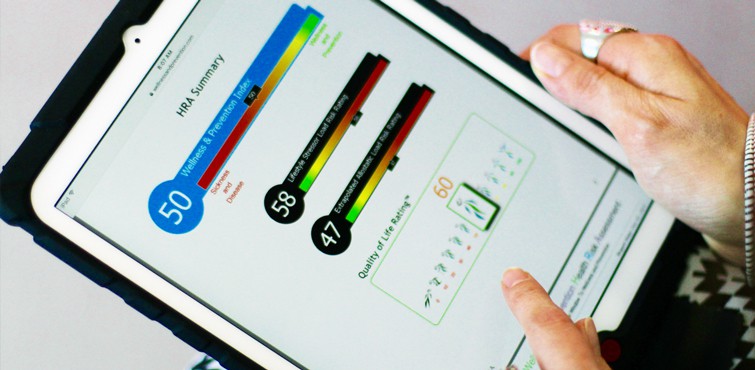 The Wellness and Prevention Solutions Health Risk Assessment is the first health measurement that assesses Allostatic Load (adaptive physiological status), Lifestyle Stressor Load, and Physical and Psychosocial Quality of Life and then analyzes and combines this data into a single and direct rating of current and predicted future wellness and prevention – theWellness and Prevention Index. For patients who are already suffering with chronic illness and/or symptoms the Wellness and Prevention Solutions Health Risk Assessment will provide knowledge and understanding of how their past and current lifestyle and environments are causing the allostatic load that is the physiological basis of their chronic illness and/or symptoms. For those patients without diagnosed illness or symptoms, the Wellness and Prevention Protocols Health Risk Assessment has the unique ability to identify who is at risk before they experience illness or disease – this is the window for wellness and prevention that has never been available – UNTIL NOW!
The Wellness and Prevention Solutions Health Risk Assessment helps both practitioners and patients identify which past, current, and future lifestyle habits, including chiropractic care, are determining current and future health and quality of life.
The Wellness and Prevention Solutions Health Risk Assessment is based on the physiological concepts of allostasis and allostatic load. Allostasis describes how our body and mind systems adapt to internal environmental stressors (VSC, Unhealthy Emotions, Chronic Sympathetic Dominance) and external environmental stressors (Unhealthy Lifestyle Habits, Unhealthy Psychosocial environments, Polluted Environments) via adaptive changes in gene expression. Allostatic Load is a measure of the amount of accumulated stress load the body and mind systems are under due to chronic allostasis. The longer our body and mind are exposed to these chronic stressor loads from poor lifestyle habits, the more likely the adaptations in various body systems will lead to illness.
---
Top of page