The BIG Announcement!
It is with great excitement that we announce we are moving locations after acquiring 1.65 acres of land just two blocks from our current office at the southwest corner of Old Shell and Alverson road!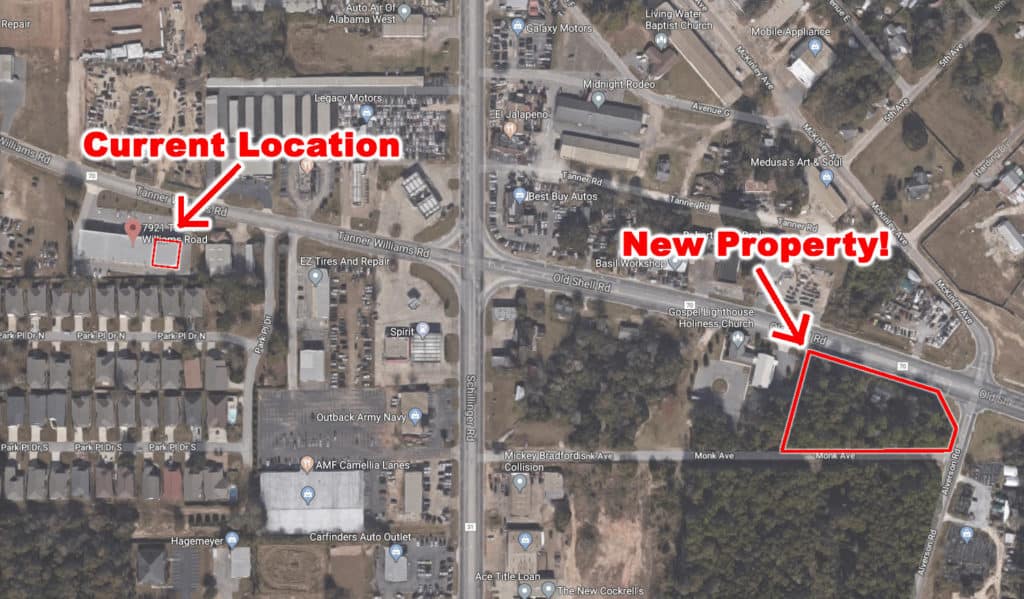 We have been planning this for nearly a year working on an almost impossible situation with almost a dozen different owners, rezoning problems, road plan abandonments, and more but it all came together and we closed the first of the year.  Here is the first layout concept for the property once completed, including expansion of REDBAR Espresso & Market from it's current 1500 square feet to around 2500 square feet with a drive thru and large outdoor patio, Liberation Chiropractic & Wellness expanding from it's current 3000 square feet to around 4500 square feet, plus an additional 1500 square feet tenant suite.  Our current location shares just over 40 parking spaces for 7 different businesses where the new property should approach 50 parking spaces for just 3 businesses!   All of this yet still areas for grass, trees, and garden.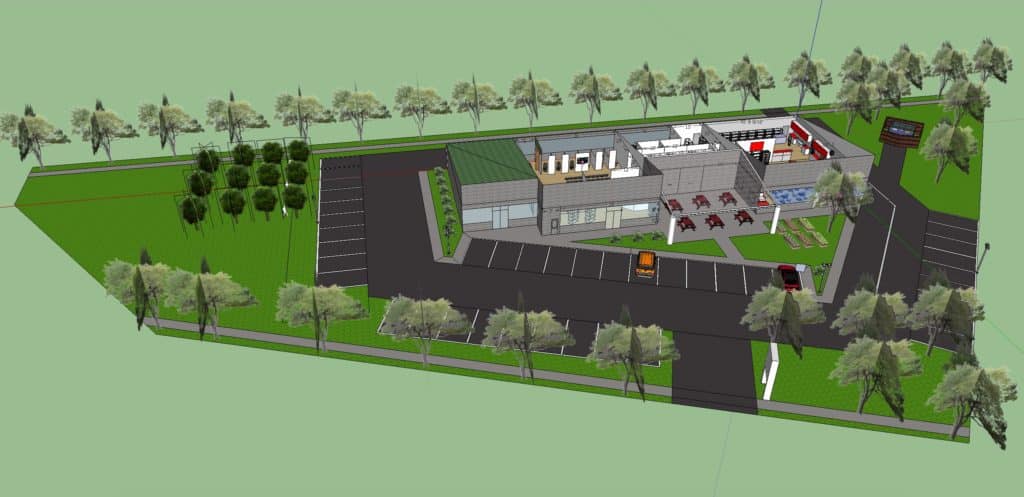 Inside the doors won't be short of improvements either.  REDBAR planned to have a larger bar with more seating, more tables, more comfort seating, a larger preparation and storage area, and the thing we are most excited about…..A FULL SIZE GRILL meaning we will have capacity to serve multitudes more than we can now in far less time!
On the Liberation side, a dedicated gated and enclosed kids area, six adjusting bays to accommodate the coming addition of more doctors, a large back office, and more spacious exam rooms and X-ray suite!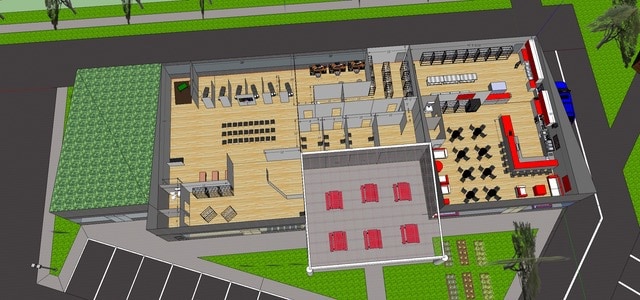 The front will surely change as our architect is just getting involved, but you can imagine the final product with clean white brick, warm glowing lanterns, lots of glass for a warm and inviting atmosphere, and a cozy home-like feel mixed with the elements you already are familiar with in a new and exciting mix.

I really wish we could take time to go through every little unique detail we have in store, but of course that would take some of the excitement out of it.  But we invite you to keep an eye out every time you come down Old Shell Road and watch the progress throughout the year.  Most importantly, plan tentatively to spend New Year's Eve 2018 with us as we hope to have our Grand Opening that night in celebration of REDBAR's six year anniversary!
NOW….WE HAVE A HUGE OPPORTUNITY FOR YOU!
We are so excited about the move, we are going to do something we've NEVER DONE BEFORE!  Until 5pm on February 28th, 2018, anyone that is not currently an active patient can get a full consultation, diagnosis, and exam of your back and/or neck problem at our already state-of-the-art clinic absolutely FREE by showing us you got this email!
Whether you've been a patient in the past or not, here's how you can take advantage of this opportunity at NO COST to you.  Just call our office right now at 251-607-0040
I'm having this special offer as a way to say THANK YOU for being a valued subscriber of my health and wellness newsletter…but more because we are on a mission to change as many lives as we can for the better this year. Everyone deserves the chance to be healthy and being the new year NOW is the time.
—————————————————-
This is a VERY time-sensitive invitation and I like to support people who take ACTION.  So we're only making this offer for the first 20 people that call, and that's going to go fast.  We guarantee you'll feel the best you have in years!
—————————————————-
If this one time special offer isn't enough to have you call now, these SEVEN extra bonus gifts should…
Special Gift 1: Free Flexion Extension view Digital Motion X-ray (DMX) that allows us to see your neck moving and determine the cause of your pain. (WOW a massive $275 value!)
Special Gift 2: Insight Surface Electromyography and a printout of the results to assess nerve function
Special Gift 3: A computerized Posture Screen and printout showing you how your posture is affecting your spine and if you are en route to degenerative arthritis
Special Gift 4: An in depth review of any of your other X-rays, MRIs, or other medical tests you'd like reviewed
Special Gift 5: A super rare 50% coupon we've never offered before (and may not again) on any one supplement in our store (could be upwards of $50 value!)
Special Gift 6: A full color PDF copy of my book "The 7 Homeostatic Essentials: The Not-so-secrets to feeling better and living longer" emailed to you
Special Gift 7: Unlimited email/phone access to your doctor, as a follow up to any of the questions and concerns you may have moving forward
—————————————————-
WHEW! That's alot of goodies… and you get them ALL when you call our office today!  Here's the phone number again – 251-607-0040
Call for your appointment and claim your gift bonuses before the limited spots we have are all gone!
On behalf of the whole Liberation team,
– Dr. Mike Bucknell
http://www.LiberationChiropractic.com
PS – Reminder this special offer ends at 5pm on February 28th, 2018.
If you'd like to take advantage of this one-time opportunity to experience a life without pain while maximizing your health, CALL NOW!
Here's the phone number again – 251-607-0040