It's scary times. If you've been reading my emails the last few years, or watching our YouTube channel (if not, good luck finding it as Google "blacklisted" us so doesn't populate in searches) you are well aware that things have played out almost exactly as we predicted they would. We're seeing news now that COVID death numbers were purposely overinflated ie died "with" COVID, not "from" COVID. I said one of two things was going to happen; either they were going to be successful in changing laws and removing exemptions so that nobody had right to refuse vaccines moving forward, or they would push so hard and fail that half the population would begin to turn on vaccinations as a whole. The latter is certainly happening as I talk to almost nobody now who DID receive the COVID vaccine(s) and even boosters who plan to get any more moving forward. The typical response now is, "no way, I'm done". So on the vaccine drive side, education is seemingly winning and Big Pharma is losing ground quickly. However, what even I didn't anticipate was how bad the outcome of this was going to be.
Let me be clear, I don't care what the media is saying to try to mitigate damages for their Big Pharma funding, what we're seeing happen right now is NOT NORMAL. I'm a big soccer fan so the earliest indications something was beginning to happen was the number of professional soccer players experiencing heart problems.
THESE VIDEOS ARE SENSITIVE. English Premier League star, Denmark's Christian Eriksen collapsed on the field in the middle of an international match from cardiac arrest. Barcelona's Sergio Aguero had to retire altogether after developing a "heart condition" realized after being rushed to the hospital with shortness of breath mid match. Young team Canada and Bayern Munich star Alphonso Davies had to take a break from play after developing myocarditis they of course blame on COVID, not the vaccine which of course is known to cause myocarditis. Keep in mind soccer players were required to get the vaccine in order to play internationally. Brazilian footballer Alex Apolinario aged 24 collapsed on field and died later in the hospital.
Taking it outside active play on the soccer field these are some of the other high profile events in just the last few months. Of course most are aware of the big one, NFL football's Buffalo Bills player Damar Hamlin age 24 collapsed of a heart attack on live TV after an otherwise mild tackle. Former Olympian for Cameroon and PSG star Modeste M'Bami died from a heart attack at just 40. Former Crimson Tide running back Ahmaad Galloway was found dead in his apartment age 42. Nothing was disturbed, and his school principle described him as "always on time, very responsible", so despite cause of death not being determined it sounds awfully similar. Surfer Marcio Freire suffered a heart attack while surfing on the Portugal coast. The oddity here is this was a guy who made his name surfing these waves, yet he's "the first death linked to surfing in the liquid mountains of Nazares Praia do Norte."
If you're not following the trend here, think about this. These are ATHLETES. The healthiest people on the planet in terms of heart health. Most of these happened in their element, the thing they've trained for and practiced their whole lives. So why all the sudden are all these people dying from heart attacks? Ask yourself when have you ever heard this many athletes dying of heart attacks, in this short a span of time? These are just isolated ones that make the news. Yet the trend is significant.
Then you get outside athletics and you see more. Another high publicity death was that of World Cup journalist Grant Wahl who died in the middle of covering one of the games. While his cause of death is reported as "just one of those things" by his wife Dr. Celine Gounder, it's very odd that she herself happens to be on Biden's Covid-19 Advisory Board. So you know very well he got the shots, and she's highly unlikely to link to it. Another photojournalist Khalid al-Misslam of Qatar, and in his 30's, also "died suddenly" from a suspected heart attack (though Qatar officials have not confirmed) just 48 hours after Grant Wahl's death while covering the tournament. Former American Idol star and Jasper, Alabama resident CJ Harris died age 31 of a heart attack.
Were all of these celebrities young and untimely deaths from heart attacks mere coincidence, maybe so? But if you're like me your alarms are going off that something just isn't right here. And that begs the question, if in fact this sudden radical acceleration of young healthy heart attack deaths IS related to the vaccine and it's very well documented side effect of myocarditis especially in young healthy males, how many more deaths will come this year? And how many non "high profile" deaths have there been, and will there be? I suppose one indication at the end of the year will be to look at "heart disease" deaths. Not that anyone would ever let it be openly linked, but you might see it.
Here's what I can tell you. The vaccine industry is worried. They're worried they lost the battle if not the war. They failed to use the COVID pandemic to remove religious and medical exemptions (in most states). They failed to force every person to take it either through fear or force. So what's the expected path forward? Isn't it obvious that they need to repair the rhetoric getting people to stop talking about the failed COVID shot and change focus to something else. Predictably that started happening in last weeks as I was sitting in a restaurant with CNN on talking about a new study showing US Cancer Deaths down 33%. They're not saying anything about the actual study but instead focused on the HPV vaccine and how that's saved people from dying of cervical cancer. Predictable as always.
Building Signs are up!
It took a little longer than expected due to supply issues, but Alabama Iron Works installed our signs last week and they're beautiful. Why are we so thrilled? Because almost everyone we'd talk to would say "Oh I thought that was a church" when we described our location. Nice to know we can now be properly identified by all the traffic rolling by.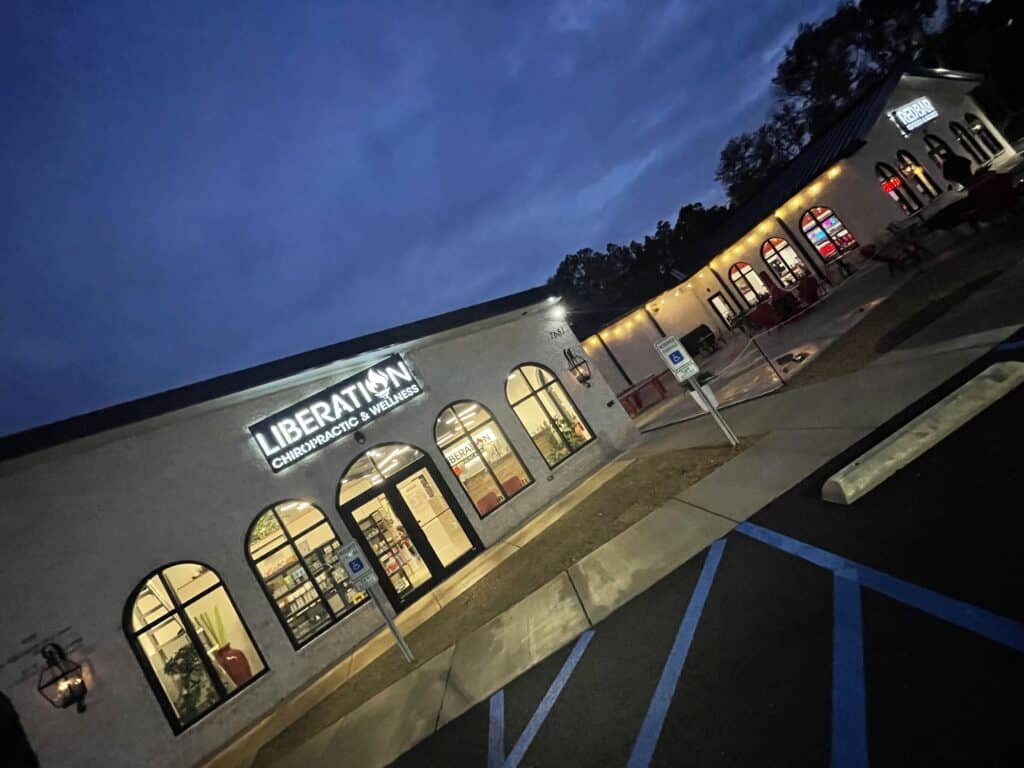 Come check out the new REDBAR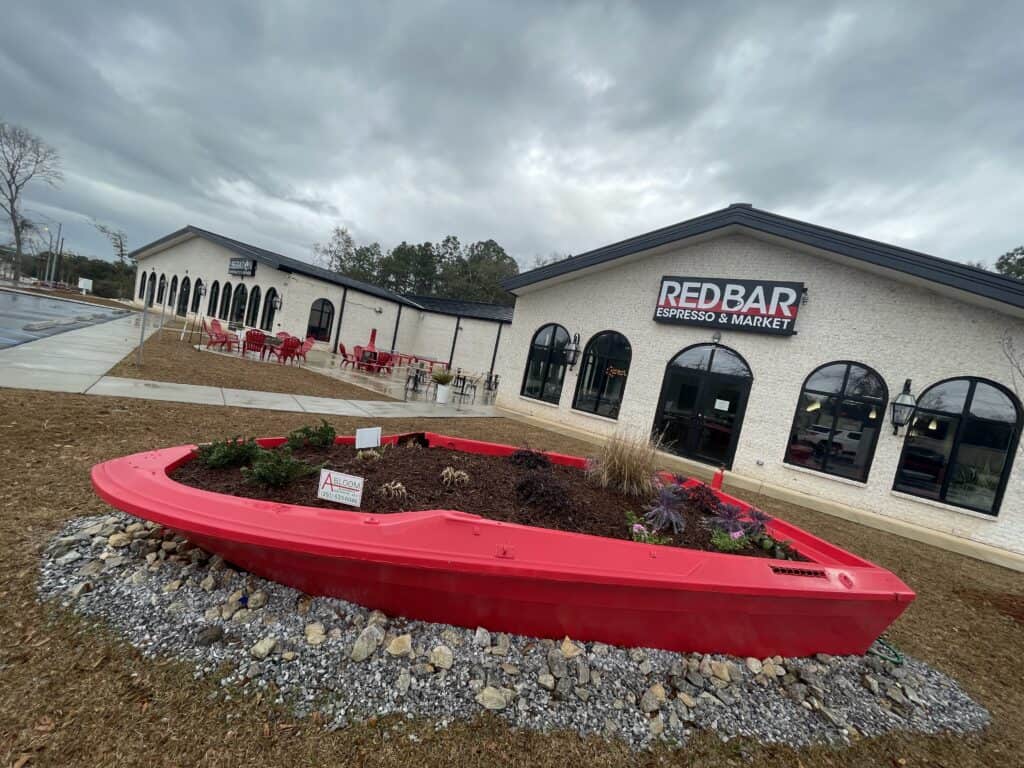 If you haven't yet made the stop, we urge you to come "experience" it! REDBAR is no longer just a coffee shop. Our updated definition as on our newly rebuilt website REDBARespresso.com is "COFFEE by morning. RESTAURANT by day. BAR by night." No matter what time of day you come in it was built as a gathering place, a place where you can meet for lunch, gather with your friends, or even hold large events like birthday parties and showers (which we've already hosted half a dozen and they've raved about it). Have an event in mind, give us a shout kids and adults alike have loved it!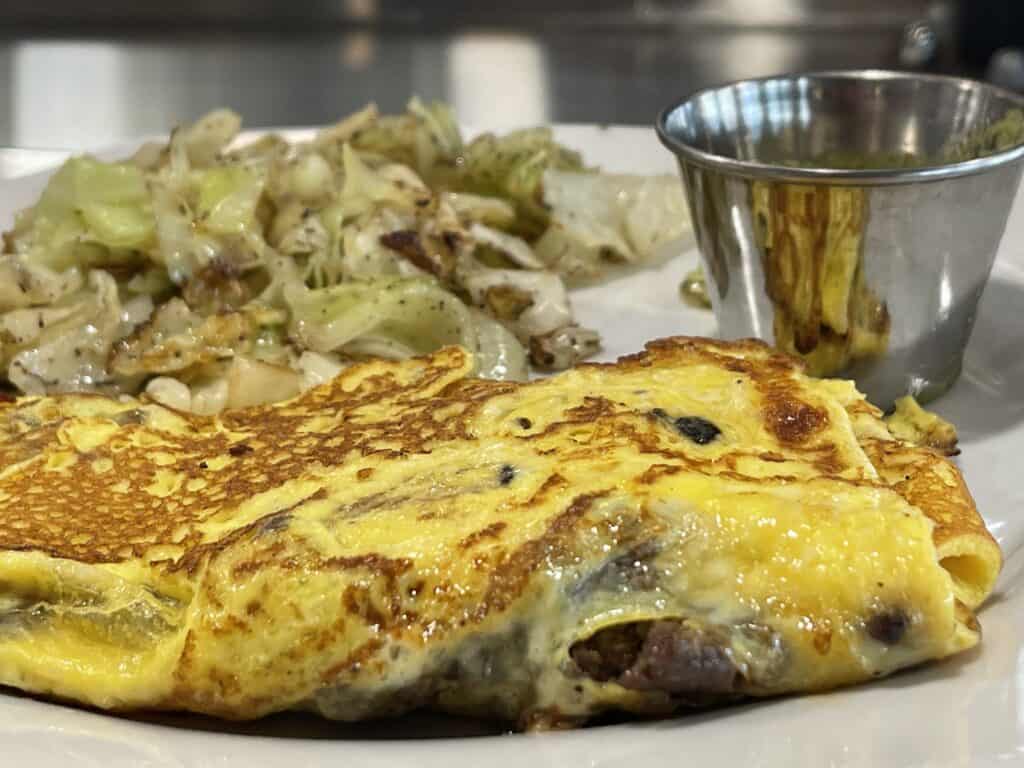 Massage Therapy Now Available
We are excited to add Monique Williams LMT to the Liberation team. Her schedule for booking appointments is as follows as well as pricing:
Monday, Tuesday 8:00AM-11:30AM
Wednesday 3:00PM-6:00PM
Friday 3:00PM-5:00PM
Prices listed are Retail, then ChiroHealthUSA discounted rates (must be a member with $49 annual fee)
30 Min Target Massage $75 $48.75
60 Min Full Body Relaxation $130 $84.50
60 Min Deep Tissue $145 $94.25
90 Min Full Body $160 $104.00
Enhancements:
Peppermint Scalp Massage $18 $11.70
Aromatherapy (Lavender, Eucalyptus, or Orange) $15 $9.75
Hot Towel Hand/Foot Treatment $23 $14.95
Did Your Insurance Benefits Reset January 1st?
For the vast majority of insurance policies the annual reset date is January 1st, including Mobile City and School BCBS policies. So if you've been nursing a health problem, now might be the right time to take action. Give us a call at 251-607-0040 and we'll gladly verify your insurance for you and let you know what pricing would be ahead of time.
Workshop: Nutrition, things you might NOT know
Our next educational workshop is Tuesday February 7th at 6:45. Dr. Mike, Dr. Jordan, and Dr. Tiffany will be doing a group workshop on all things related to one of the 7 Homeostatic Essentials, Nutrition. We'd love to have you join us as they're more fun the more that attend. Attendees get a FREE drink from REDBAR (latte etc) when you arrive, and also an additional discount that night only on ALL supplement purchases. So everyone that attends wins as you learn AND save money. We hope you'll consider calling a friend or family member and bring someone with you. Help us help others find their way.