It's been a long….long…..loooooooong time coming but it's finally happened. Since purchasing the property like 4-5 years ago, despite a pandemic and all that brought, despite countless hurdles, delays, etc we are finally moved into our new building located at 7681 Old Shell Road. And boy is it a GEM! I can't wait to show everyone in person so hurry by, however in the meantime here's a few pictures.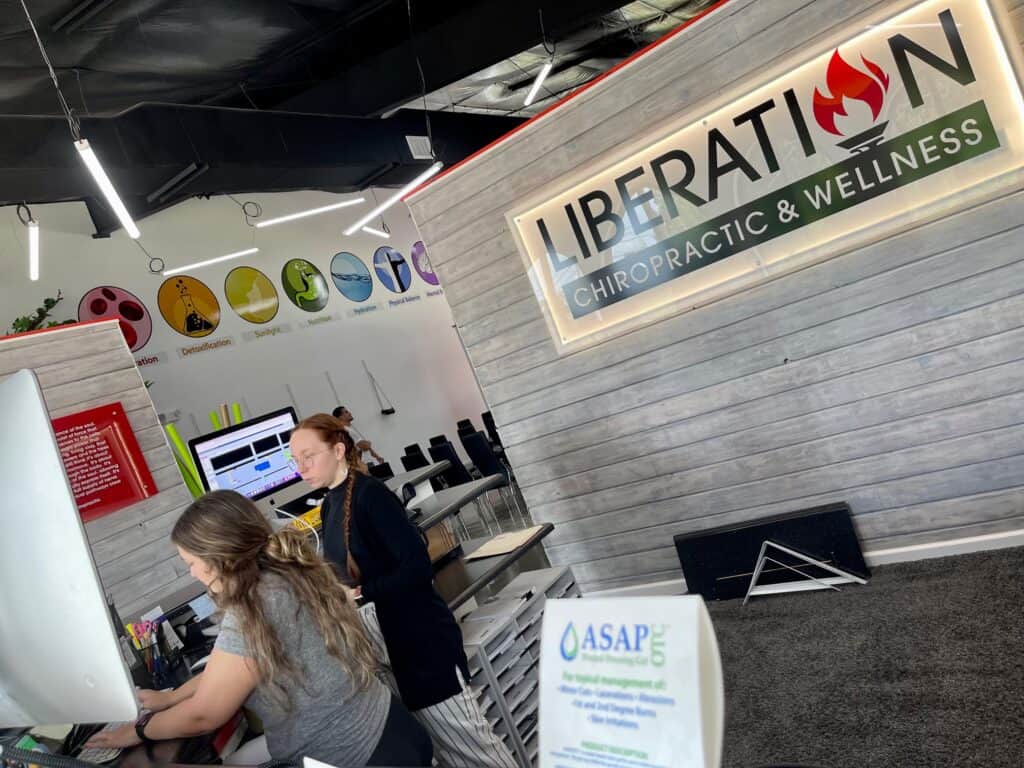 Above is our front desk area with the patient area beyond. The shiplap on the wall is repurposed from the old house that was torn down on the property. The huge 7 Homeostatic Essentials logos sit just below the 23 foot ceiling reminding everyone the essential components of a healthy self-preserving body.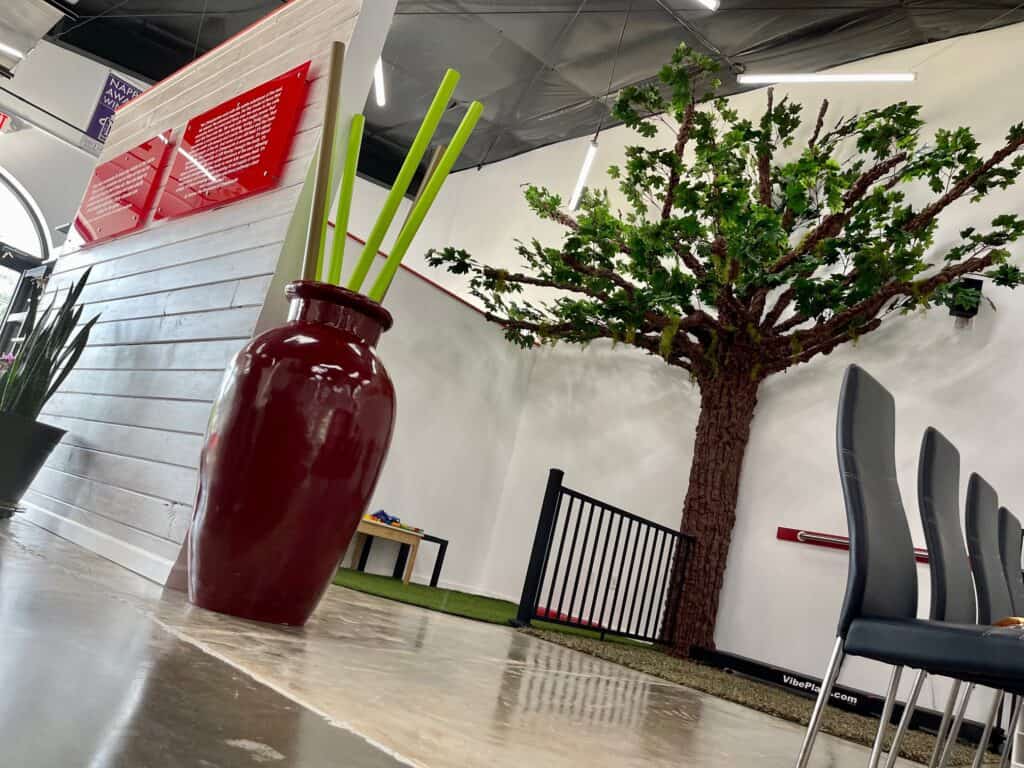 Just beyond the front desk is the kids area overshadowed by our massive "Tree of Life". Not ironically where Chiropractic means "by hand only", our tree was 100% built and painted by us…by hand only. Walls are still fairly bare, but will still be adorned with a TV, development boards, and of course over 100 inspirational health related quotes scattered across the building.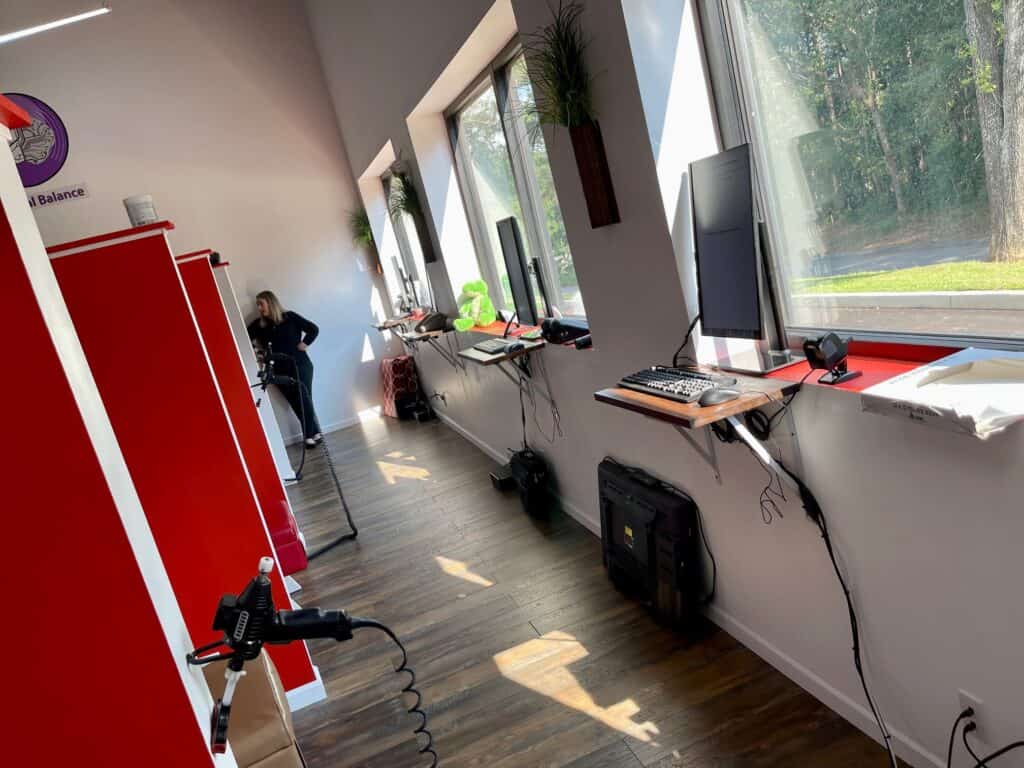 Our therapy bays have a beautiful sunny view of trees behind. We kept a minimalist feel and open concept to keep the environment comfortable. Five adjusting bays allow for all three doctors now, but plenty of room for further accommodation and expansion.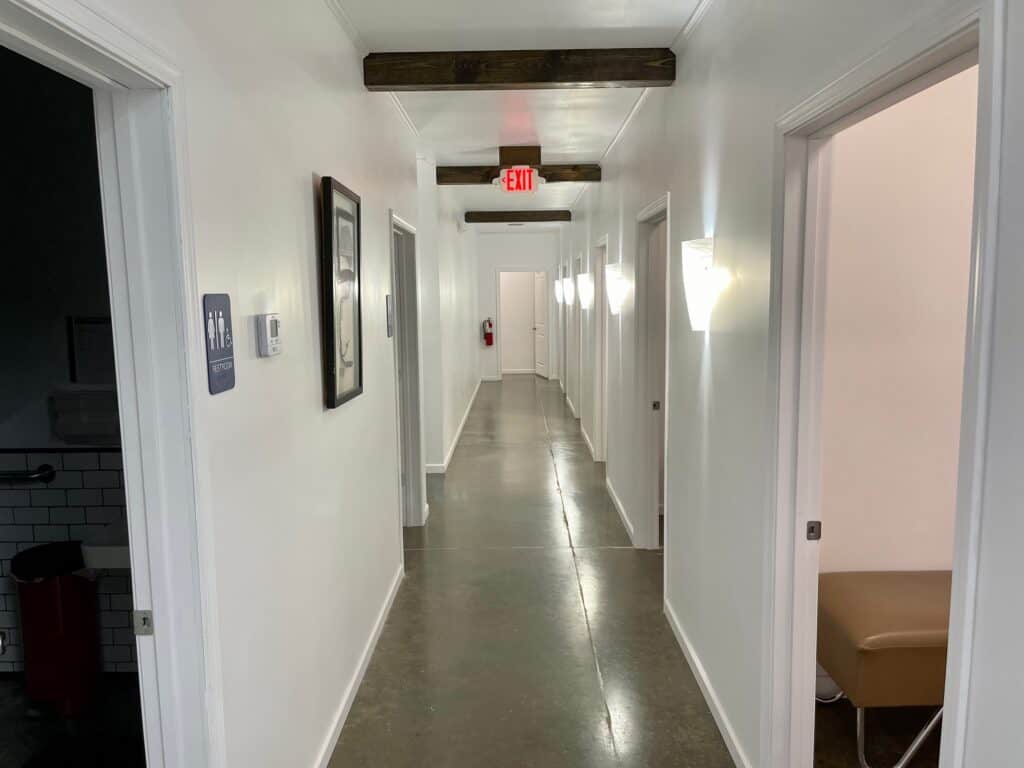 Looks a bit bare at the moment yes, but the hall will come to life as well soon as we get to it. We went from just two exam rooms (shared by three doctors) to SIX rooms not including x-ray at the end of the hall. That means each doctor has their own exam room (no waiting), plus separate room for Class IV laser (couples as a nursing and changing room for moms), room for Lipo Laser weight loss, and hopefully very soon a Massage Therapist!
There are so many details we could share, so much of this was done by your doctors and staff directly, that we could take over an hour pointing everything out. Isn't that what a home should be? You appreciate what you've built, where you've invested your blood sweat tears…and money of course. This clinic is the culmination of over 18 YEARS of committed principled Chiropractic care. With three doctors now, more on their way (including Dr. Mike's son Jalen who is now a senior in high school but has already decided to become a Chiropractor), this clinic will serve as an oasis for HOLISTIC, NATURAL HEALTHCARE hopefully for decades and decades to come.
Limited Time Savings!
Unfortunately you can't stay, trust us we've spent enough nights here until well past midnight it feels like sleeping here. But we hope you'll stop by and say hello! We'll be more than happy to give you a tour. If you're a current patient that's AWESOME! If not, we have a very limited time Welcome Home special that we are only running now through October 15th. You can get back on our once a week Wellness For Life plan that's normally $150 a month for only $135, kids are reduced from $90 to just $80. Considering a normal visit is $60 retail, $39 for members of ChiroHealth USA you can see this adds up big over the long run. Best part is just that, once you sign up you keep that rate as long as you're on the plan we will not raise your fee unless you cancel the plan at some point (if you get back on you would go to whatever the current rate is there forward).
Now, if you're a new patient in the clinic or it's been over 2 years since your last appointment, you will have to go through exam process and x-rays as necessary. But if it's been less than two years since your last visit you can come straight back in. Call our front desk at 251-607-0040 and we'll determine what needs to happen in your case. If you have insurance there's a good chance it will cover either way.
Don't forget, this offer ends in just a few short weeks October 15th so call today! See you soon!
REDBAR Opening Soon!
We've all been "suffering" with you. But the good news is we are edging closer and closer to opening REDBAR in it's new home just across the patio. The only steps remaining are Health Department inspection we are trying to line up now, City Council vote and issue of our business license, and if all goes well we are shooting for SEPTEMBER 28th. We can't wait for you to see it, beautiful 10 foot arched windows all around, drive through, outdoor patio dining with games to come, and more. This will be something radically different in West Mobile in particular, but not much like it anywhere around honestly. We hope you LOVE what we've poured into it!