In this workshop Dr. Bucknell covers the nauseating history filled with corruption that Chiropractic has survived. Organized Medicine has made every attempt over the last century to maintain it's power grab. But there is hope looking back at what has made Chiropractic the largest alternative health profession in the world today. Please visit our YouTube Channel to view the entire workshop.
Chiropractic History
"Those who cannot remember the past are condemned to repeat it." George Santayana
1882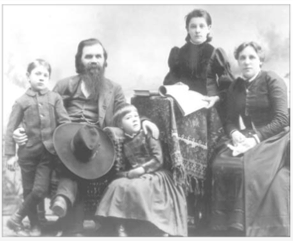 1885
BJ's mother falls ill and dies.  DD is married six times in all.
1886
1894
 

"A crank on magnetism has a crazy notion that he can cure the sick and crippled with his magnetic hands. His victims are the weak-minded, ignorant and superstitious, those foolish people who have been sick for years and have become tired of the regular physician and want health by the short-cut method…he has certainly profited by the ignorance of his victims…His increase in business shows what can be done in Davenport, even by a quack."


This article was written during a time when Morphine and Mercury based "cures" were standard care in Medicine.
1895 -Â 
1896
1899
Heinrich Matthey MD of Davenport starts an attack campaign against Palmer to create a state statute preventing anyone but an MD from practicing.  This campaign prompts schools nationwide to develop "accreditation standards".
1901
State Medical Boards are now established in almost every state requiring a diploma from an AMA approved medical college in order to attain a license.

John D Rockefeller creates the Rockefeller Institute for Medical Research.
1902
1903
The 2nd Chiropractic school opens in Cedar Rapids Iowa by Dr. Solon Langworthy, one of Palmer's first class.
1904
Oakley Smith is first to be licensed as a "drugless healer" under the Illinois Medical Practice Act.
1906
The AMA's Council on Medical Education creates list of "unacceptable schools" to reduce graduates into healthcare.
Dr. Langworthy publishes first book on Chiropractic titled "Modernized Chiropractic" establishing the brain as "life force" of the body, the term subluxation, and effectively bringing Chiropractic into the scientific arena.
BJ Palmer assumes control of Palmer's School of Chiropractic.
1907
Attorney Tom Morris legally differentiates Chiropractic from Osteopathy in terms of philosophy using Langworthy's book as the reference, and frees Shegataro Morikubo DC of Wisconsin (also one of Palmer's 6 first graduate students).  He is acquitted of charges of "unlicensed practice of medicine" therefore reshaping legal distinction for the profession.
1910
The Flexner Report, financed by the Carnegie Foundation, closes hundreds of private medical and homeopathic schools and names Johns Hopkins the "model school".  This establishes the first nonprofit, federally subsidized, university hospital effectively gaining control of all federal healthcare research and student aid.

From his studies now in Oregon DD Palmer theorizes that "nerves control health" in his most important Green Book "The Chiropractic Adjuster".

BJ Palmer introduces Spinography (X-ray) for first time at Palmer's School of Chiropractic resulting in a significant exodus of the more "straight" faculty and students.

With only 12,000 practicing Chiropractors, there are now more than 15,000 prosecutions for practicing medicine without a license. Â The Universal Chiropractic Association (UCA) successfully defends 80% of them on the basis of philosophy.
1911
Letter from DD Palmer to PW Johnson DC at Palmer's School of Chiropractic suggests Chiropractic move to become a religion with himself as the "fountainhead" in order to have an easier legal path as the Christian Scientists were enjoying.
1912
BJ purchases the 22 room Palmer Mansion for $25,000. Â Four US Presidents visited his home during their presidency.
1913
Kansas passes the first Chiropractic Statute.

DD Palmer dies of Typhoid Fever at age 68, BJ is unjustly accused of patricide.
1914
By now BJ had accumulated the largest and finest osteological collection in the world with 4,392 skeletons and 13,697 specimens.
1915
North Dakota and Arkansas become first states to officially license Chiropractors.
1918-1922
On the heals of the 1918 Flu Pandemic and the end of World War I, the US government pays tuition for returning veterans.  Enrollment at Palmer's School of Chiropractic alone jumps to over 3,000!
1919
State BCE's endorse the Federation of Chiropractic Schools and Colleges "3 year and 6 month" curriculum standard.
1922
1924
1925
Wisconsin and Connecticut pass first basic science statutes.
1926
BJ is not re-elected in the UCA. Â One week later he forms a different organization that is now the International Chiropractic Association (ICA).

BJ opens the Clear View Sanitarium which continues to operate until 1961.
1930's
Chiropractic becomes the LARGEST alternative healing profession in the United States and remains by far still today.
The National Chiropractic Association (NCA) is formed by merging the ACA and UCA.
1933
Warren Sausser DC introduces the first upright full spine X-ray to further Logan Basic Technique.
Ronald "Dutch" Reagan gets his first broadcasting job at Palmer owned WOC as a sportscaster.  He said of BJ Palmer he was a "great and gracious gentleman".

1935
The BJ Palmer Research Clinic begins 30 years of published study. Â Set up in two divisions; Medical, for diagnosis and Chiropractic, for treatment. Â Patients come from all over the world for care.
1936
The famous but not well reported "Chiropractor" Jack LaLanne opens the nation's first health and fitness club in Oakland, California.

1945
World War II ends, and thanks to the GI Bill legislation enrollment again skyrockets. BJ wrote he "wished I could get a hold of Hitler's atlas so that I could give him an adjustment to make this tyrant sane".

NCMIC is chartered as the first to provide malpractice insurance to Chiropractors.
1947
What is now the Council on Chiropractic Education (CCE) is established.
1950's
Profits from penicillin, polio vaccines, and others drive medicine to power and virtually eliminate all homeopathic professions except for Chiropractic.
Winifred Gardella, the polio poster child is cured by Lewis Robertson DC.
1956
Palmer's skeletal collection grows to over 25,000 specimens valued at over $350,000.
1961
BJ Palmer dies at his winter home in Sarasota, FL at age 79 from colon cancer.
1962
The National Board of Chiropractic Examiners (NBCE) is founded.
1963
The current ACA is formed by merging the NCA and some of the ICA.

Prompted by growth of Chiropractic after licensure, the AMA secretly forms the "Committee on Quackery" designed to "contain and eliminate" the Chiropractic profession according to official federal court transcripts:
 Ensure Medicare does NOT cover Chiropractic.

 Ensure the US Office of Education does not recognize or list a Chiropractic accrediting agency.

 Encourage continued separation of the two primary national associations.

 Encourage state medical societies to push for laws limiting Chiropractic
1971
National College of Chiropractic achieves federally recognized accreditation, gaining CCE recognition from the US Office of Education.
1972
US Congress authorizes payment for Medicare patients to Chiropractors.
1974
CCE is recognized by the US Commissioner of Education.

Louisiana becomes the final state to pass statute for Chiropractic.

Life University is founded by Sid Williams DC in Marietta GA.
1975
"Sore Throat" releases secret AMA documents to the press, prompting "Wilk vs AMA" to be filed in 1976.

1987
After a long legal battle, Judge Getzendanner finds the AMA guilty in violation of the federal Sherman Act for "engaging in unlawful conspiracy in restraint of trade".  
1992
The first Doctor of Physical Therapy (DPT) program is established at the University of Southern California.
1994
Digital Motion X-ray (DMX) gains US FDA approval.
2002
2010

"ObamaCare" is enacted with unexpected outcomes still coming for all health care professions…

2015
New discovery that the immune system and lymphatics are in fact controlled by the brain.
Chiropractic NOW
Chiropractic programs around the world and current number of practicing DCs:
United States: Â Â Â Â Â Â Â 17 Â Â Â 75,000


Canada: Â Â Â Â Â Â Â Â Â Â Â Â Â Â Â Â Â Â 2 Â Â Â Â 7,250

Australia: Â Â Â Â Â Â Â Â Â Â Â Â Â Â Â 4 Â Â Â Â 4,250

United Kingdom: Â Â Â 3 Â Â Â Â 3,000

Brazil: Â  Â  Â  Â  Â  Â  Â  Â  Â  Â  Â  Â 2 Â Â Â Â 700

Denmark: Â  Â  Â  Â  Â  Â  Â  Â  Â 1 Â Â Â Â 550

France: Â  Â  Â  Â  Â  Â  Â  Â  Â  Â  Â 1+ Â Â 450

Japan: Â  Â  Â  Â  Â  Â  Â  Â  Â  Â  Â  2 Â Â Â Â 400

South Africa: Â  Â  Â  Â  Â  2 Â Â Â Â 400

Sweden: Â  Â  Â  Â  Â  Â  Â  Â  Â  Â 1 Â Â Â Â 400

New Zealand: Â Â Â Â Â Â Â Â Â 1 Â Â Â Â 400

Spain: Â Â Â Â Â Â Â Â Â Â Â Â Â Â Â Â Â Â Â Â Â 2 Â Â Â Â 300

Switzerland: Â Â Â Â Â Â Â Â Â Â Â 1 Â Â Â Â 275

Mexico: Â Â Â Â Â Â Â Â Â Â Â Â Â Â Â Â Â Â 3 Â Â Â Â 60

South Korea: Â Â Â Â Â Â Â Â Â Â 1 Â Â Â Â ?

Malaysia: Â Â Â Â Â Â Â Â Â Â Â Â Â Â Â Â 1 Â Â Â Â ?
The FUTURE of Chiropractic
Battles I believe will be the following:
We need more ChiropracTORs practicing ChiropracTIC!

Chiropractors will continue to see greater diversification and specialties like medicine.

Where MDs are splintering into private practices, Chiropractors MUST start working together to gain a market advantage.

Medicine will use DPT's in attempt to undermine Chiropractic by assuming the field when in reality there is room for all.

Chiropractors will NOT see better insurance coverage, but neither will MDs.

Healthcare is unsustainable, so as costs balance patients will determine the market.
Chiropractic is in the balance and the next 20 years will either BOOM or BUST.
Did we leave something out? What would you add to this timeline of Chiropractic?