Hey!
I wrote to you a few days ago to tell you about a HUGE ANNOUNCEMENT and the incredible opportunity and special we're offering for a very limited time. And I wanted to make sure that you didn't miss the email as we've had an equally HUGE response. We had dozens of emails added to our list as it was shared with friends and families, and honestly we've been flooded this week with calls!
Until 5pm on February 28th, 2018 you can get a full consultation, diagnosis, and exam of your back and/or neck problem at our state-of-the-art clinic absolutely FREE by showing us you got this email!
Here's how you can take advantage of this opportunity at NO COST to you. Just call our office right now at: 251-607-0040
I'm having this special offer as a way to say THANK YOU for being a valued subscriber of my health and wellness newsletter…but more because we are on a mission to change as many lives as we can for the better this year. Everyone deserves the chance to be healthy and being the new year, and with all the excitement to come, NOW is the time.
—————————————————-
This is a VERY time-sensitive invitation and we only made room for the first 20 to take advantage. Well, those went fast….REALLY fast. Since a healthy life is for anyone who wants it, we simply can't leave you hanging, so we've opened up some additional spots in the upcoming weeks to make it work. We guarantee you'll feel the best you have in years!
—————————————————-
If this one time special offer isn't enough to have you call right now, these EIGHT extra bonus gifts should.  Why EIGHT when last email was SEVEN?  Because we forgot to include something big…
Special Gift 1: Free Flexion Extension view Digital Motion X-ray (DMX)Â that allows us to see your neck moving and determine the cause of your pain. (WOW a massive $275 value!)
Special Gift 2: Insight Surface Electromyography and a printout of the results to assess nerve function
Special Gift 3: A computerized Posture Screen and printout showing you how your posture is affecting your spine and if you are en route to degenerative arthritis
Special Gift 4: An in depth review of any of your other X-rays, MRIs, or other medical tests you'd like reviewed
Special Gift 5: A super rare 50% coupon we've never offered before (and may not again) on any one supplement in our store (could be upwards of $50 value!)
Special Gift 6: A full color PDF copy of my book "The 7 Homeostatic Essentials: The Not-so-secrets to feeling better and living longer" emailed to you
Special Gift 7: Unlimited email/phone access to your doctor, as a follow up to any of the questions and concerns you may have moving forward
Special Gift 8: A full set of 4 Digital Spinal X-rays (another massive $180 value)! We realized, duh, that being a Corrective Chiropractic clinic we don't adjust without seeing X-rays, and aren't about to give you the rest without these included so SURPRISE!
WHEW! That's a lot of goodies… and you get them ALL when you call our office today! Here's the phone number again – 251-607-0040
Call for your appointment and claim your gift bonuses before the limited spots we have are all gone!
Talk shortly,
– Dr. Mike Bucknell
http://www.LiberationChiropractic.com
PS – This special offer ends at 5pm on February 28th, 2018. That's just a few weeks away don't wait!
If you'd like to take advantage of this one-time opportunity to experience a life without pain while maximizing your health, CALL NOW!
Here's the phone number again – 251-607-0040. Don't miss out!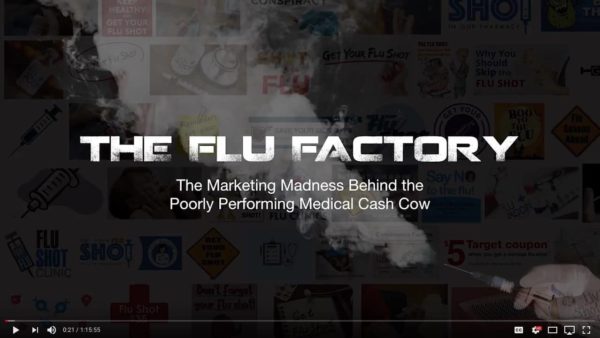 You've seen how heavy almost every media outlet is pushing the Flu Vaccine. You may have heard reports that this year's flu vaccine is far from effective only pushing 10% in Australia who see their "Flu Season" six months before we do. Nonetheless, they have vaccine supplies to sell or they lose BIG pharma bucks so everyone is on the bandwagon because drug companies pay media to advertise in order to sell their product. Unfortunately their "advertising" is disguised as scientific experts, reports and computer models, and CDC officials, so the average person can hardly argue with such "universal" wisdom. Do ANY of those experts recommending washing your hands EVER mention the reason why we have a "Flu Season" in the first place? Of course not. Nor will they tell you how to very cheaply prevent the flu effectively and without side effects. Check out our latest workshop "The Flu Factory: The Marketing Madness Behind the Poorly Performing Medical Cash Cow" to see all the stuff they hope you never find out. While you're there make sure you SHARE, and SUBSCRIBE to our YouTube channel so you'll be notified by email every time the latest workshops are uploaded. While endless supplies of cash can promote whatever information they want, GOOD information is usually only proliferated by those who make it spread.
Your Ultimate Flu Weapon Available in our Store!
 You may not know, but we have a fully functioning and secure store on our website where you can order our most popular products. Any purchase over $50 also receives shipping for FREE!
The big gun, our Hi Potency Emulsified D3 is the secret weapon to boost your immune system fast and furiously rather you aren't feeling your best, or you or a family member actually have the flu. At just $22.50 it's cheaper than anything the CDC is recommending (go figure), but enough in one bottle to handle the flu season for the whole family. Don't get caught off guard, have this on hand so it's there when you need it. There's a very helpful video here also explaining common usage.
For the rest of the year, just your regular maintenance dosage, most adults use our Vitamin D Supreme which includes 5,000 iu of Vitamin D3 plus Vitamin K1 and K2. It's very important that your D3 has K vitamins for proper absorption and utilization of dietary calcium. It's also very common for general store quality Vitamin D products to be suspended in junk ingredients like corn oil, which basically negates the money your spending for high quality Omega 3s.