"There is a simple reason health care in the United States cost more than it does anywhere else: The prices are higher." – The Washington Post
poliTICKED: The Politics of Healthcare a workshop presented by the owner of Liberation Chiropractic in Mobile, AL; Dr. Michael Bucknell talks about the politics behind healthcare. The entrapment of the patient, and the hypocrisy that has kept true healing and rational healthcare from becoming the dominant practice in American Healthcare. This might upset you, but it will also enlighten you.
 "Give me control of a nation's money and I care not who makes it's laws." – Rothschild
Health Spending of GDP
Health-Care spending as a percent of the gross domestic product totaled 17.3% in the United States in 2012.
Almost all other nations are in single digits.
Health-Care raked in $2.8 TRILLION despite expiring drug patents.
Total health spending worked out to $8,915 per person
Options to reduce unsustainable costs
Promote wellness care: example average cost  for an adult in our clinic breaks down to :
$1,200 Chiropractic Care
$840 Daily doses of ProOmega, D Supreme, Iodine, Synergy, Essential Greens
$2,040 = Total
Therefore you get a 4.37 to 1 return on investment if you avoid SICK CARE
Another way of looking at it, if you pay national average for just 5 years, it's almost 22 years of the other.
Reduce pharmaceutical and medical costs….
Restrict access, pay providers less, "uncovered" charges, raise premiums…
ObamaCare
1. Access Restriction: System bogged down by "free" preventive services
 and "essential health benefits" package that do not cover Chiropractic,Vitamins, Gym Memberships, or anything that actually promote health.
2. Provider Cuts: Medicare Value-Based Purchasing and EHR standards can
 be used to cut provider payments. Medicaid will be expanded by at least 17
 Million Americans while Medicare payment cuts will exceed $400 Billion.
3. Uncovered Procedures: an Independent Payment Advisory Board (IPAB)
 will be used to determine what procedures are reimbursed. Further the Patient-Centered Outcomes Research Institute (CER) will be used to 
 "compare treatment options for disease".
Blue Cross & Blue Shield of Alabama
 2013 Assets were over $3 BILLION
Over 85% Marketshare of Alabama coverage 2012 study showed Alabama the least competitive market in the US. This month kicked Northeast
AL Regional Medical Center for challenging compensation of up to 30% less than other area hospitals for same services.
Was denied motion to dismiss an Antitrust Lawsuit filed last month!
Registered as a not-for-profit entity. Where do the profits go?
HEADLINE: "Top 10 execs at Alabama's Blue Cross doubled their pay in last two years." – AL.com August 15th 2014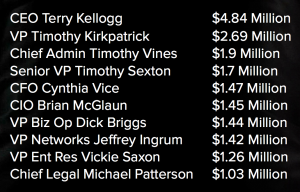 ObamaCare Section 2706: Nondiscrimination in Health Care
Insurers may not discriminate on plan coverage against any
 health care provider that is acting within the scope of
 applicable licensure under states' laws.
Medicare currently does NOT cover examinations, x-rays, therapies, nor anything else to Chiropractors other than adjustments at a cut value Not one time in my 10 year career have I received a Medicaid check Blue Cross Blue Shield
Most plans have Chiropractic limits as small as $400 a year "Medical necessity" restrictions not seen in any other sector Uncovered procedures like DMX even though it's the #1 government recommended diagnostic tool for whiplash and cervical spine injury Restricts therapy usage with such lingo they could deny anything
 "The thing that bugs me is that people think the FDA is protecting them. It isn't. What the FDA is doing and what the public thinks it's doing are as different as night and day." Dr. Herbert Ley (ex FDA Commissioner)
Home Births: At your own legal risk in 23 states including Alabama
Raw Milk: Sale for human consumption illegal in 17 states including Alabama
Vaccine Religious Exemptions available in all states but MS and WV, however Philosophical ONLY available in 19 states
In 2011 the Supreme Court ruled vaccine makers were protected from lawsuits, setting up a Vaccine Injury Court which only 2 have gotten through to date. Seat belt injury lawsuits are perfectly acceptable by the way.
Parents forced medical care upon their children such as in the Parker Jensen case
In 2013 Obama signed HR 933 referred to as the "Monsanto Protection Act", while since 1995 over $18 BILLION has been subsidized to Big Agribusiness, while Monsanto persists a revolving door with the FDA, while Monsanto continues to buy up all the organic and seed companies they can buy out or choke out
 "In the nineteenth century, respect for the certainty of science was in stark contrast to the quackery and mysticism of nineteenth century medicine. To emphasize the transition to the more scientific approach to modern medicine, physicians sought to represent themselves as scientists, and began to wear the most recognizable symbol of the scientist, the white laboratory coat."
The Hypocrisy of Quackery
Thomas Allinson (1858-1918): Founder of Naturopathy, opposed use of drugs, vaccination
John Harvey Kellogg (1852-1943): MD who heavily promoted circumcision
DD Palmer (1845-1913): Discovered Chiropractic assessing Harvey Lillard
Louis Pasteur (1822-1895): Invented pasteurization
Linus Pauling (1901-1994): Promoted effectiveness of Vitamin C in Cancer therapy
Joseph Mercola (1954-present): DO operating largest online health website
"only 15% of medical interventions are supported by solid scientific evidence…partly because only 1% of the articles in medical journals are scientifically sound and partly because many treatments have never been assessed at all." – Britsh Medical Journal 1991
Top 10 Pharma Companies by Revenue 2013
1. Johnson & Johnson ($71 Billion) Tylenol, Motrin…
2. Novartis ($57 Billion) Diovan, Gleevac…
3. Roche ($46 Billion) Accutane, Avastin, Tamiflu…
4. Phizer ($51 Billion) Lipitor, Lyrica…
5. Sanofi ($45 Billion) Plavix, Lantus…
6. GlaxoSmithKline ($44 Billion) Advair, Augmentin…
7. Merck ($44 Billion) Singulair, Gardasil, Claritin…
8. Bayer ($25 Billion) Aspirin, Yaz…
9. AstraZeneca ($25 Billion) Brilanta, Symbicort…
10. Eli Lilly ($23 Billion) Zyprexa, Cymbalta, Cialis, Strattera…
Personal Solutions
Invest in your families HEALTH, don't wait for SICKNESS
Buy into an HSA or Medical Sharing Program with a high deductible
Price out what you would have spent on traditional insurance, and
 rather than spend the difference on Disney World, SAVE IT
Don't be cheap on vitamins, because you get cheap vitamins
Exercise outside or at home unless you need a trainer
Maximize your home environment: Clean water, clean air, no chemicals
Eat real food
Realize the only thing most doctors know more than you is what they were taught
Protect your children and yourselves from unnecessary vaccines, drugs, surgeries, and other interferences to normal bodily function
Did we forget something? What are some additional ways that you can invest in your HEALTH care? We would love to hear your views please leave a comment below.