Is there a role reversal in healthcare on the horizon?
A very curious thing has been happening in healthcare over the past few years, but you have to go back 30 years or so to really appreciate the trend.  When I was a kid back in the 80's GP's (General Practitioner Medical Doctors) were a common thing.  Many GP's were pretty much middle class professionals.  In fact it was kind of unexpected when I started dating my wife in high school, the first time I pulled up to her house in an average neighborhood and there was my childhood GP mowing his lawn (her next door neighbor).  But as years passed you saw fewer and fewer small, individual, private practices as it became the norm for MDs to specialize in pursuit of smaller focus and larger salaries (and bigger houses).  Private practices phased out in favor of group practices and hospitals.  This was smart because you have collaboration of intellect, shared equipment and overhead, and many other advantages.  From a patient perspective, why would you see a GP with a wide but limited knowledge for an issue, when you could see a specialist that knows "everything" about that one part?  And when you're a specialist, who is your competition?  This becomes a problem though when everyone is a specialist, and you the patient now get shuffled from doctor, to doctor, to doctor, because every doctor says it's another doctor's specialty.
Chiropractors on the other hand, for over a century have operated more like GPs in small private practices.  It's a lot like churches, dozens and dozens of small buildings (furnishings, electric bills, maintenance, etc) scattered all over town when you could save a fortune using existing buildings like schools, or heaven forbid…collaborating.  Some of this is choice and still is today because our "breed" tends to have a thing about working for or even with someone else.  Think about it, where most of us could have been accepted into medical school (had we applied) and that world of often blind acceptance as demi-gods, we CHOSE to be the outsider…"just a chiropractor" as naysayers like to remind us.
Fast forward to today and something odd is happening.  Back in popularity is the "Urgent Care" clinic popping up on every corner.  This isn't a new branch of healthcare but the resurgence of the GP.  MDs who for whatever reason (insurance coverage drying up, Medicare, malpractice increases, administration, post economic drop reality, etc) finding that it is no longer ideal working in large groups.  Instead they opt for smaller buildings, less equipment, and broad focus of anything that walks in the door.  Welcome to the world Chiropractors have learned to thrive in over the last century.
Since I was in Chiropractic school 14 years ago I've had a vision to bring the power of the collective into my practice.  We've worked to develop a practice style that allows open collaboration, shared resources, and therefore the ability to branch out and serve far more than I ever could on my own.  Dr. Kelly was a patient, went to school for four years, and has now been here for two.  Jordan worked for me at REDBAR, has been in school for four years, and will rejoin us this December.  Tiffany was a patient since a teen and has a few years left before she rejoins us.  Tan came to shadow about a year ago and may end up back here as well.  And hopefully the chain won't end there (I have three boys myself after all).  The vision is coming closer to fruition as we step towards breaking ground on our new property.  From there we can train doctors and open satellite adjusting clinics around the Gulf Coast that replicate our system.  So while the medical model fragments from the power of groups to the solidarity of private practice, will Chiropractic eventually realize the power of collaboration and what it would do to better serve the masses?
New Beginnings

Smashed and lost in a landfill, that was the destiny for these old windows.  From the old house on the property, vacated (well for the most part) for years, and rotting away, we pulled these old wood frame windows as well as wood ceilings from three of the rooms.  I wasn't sure what, but I saw life in the trash worth saving before the bulldozers arrive.  Now in my little "workshop", an extra room in my house, I'm spending my spare time stripping caulk, removing glass, stripping paint with a heat gun and putty knife, then restoring what's left into tables.  When REDBAR is complete, it won't be all new.  These old windows will provide the surface you'll enjoy your coffee and meals on.  Those ceiling boards too will seamlessly integrate into the atmosphere.  It's one way to remember that everything has value if you look for it.
Stories of weight loss are heating up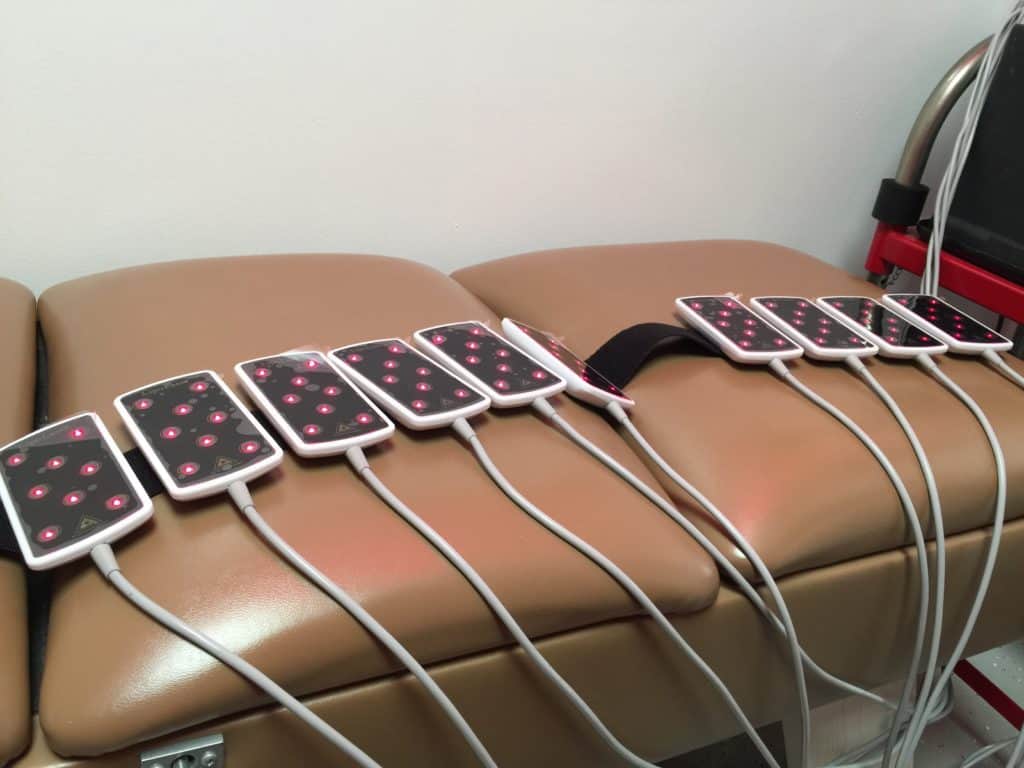 These little LED light pads are making quite the impression.  It's been a little over 3 months since we started offering Lipo Laser weight loss and the inches lost are remarkable.  You wouldn't believe some of the pictures we see before and after, but for obvious confidentiality most of them don't want their bellies going out to thousands of emails.  All I can say is, if you have inches to lose and you're looking for an easier solution this is it.  With ChiroHealth USA, Lipo Laser sessions are only $39 each after initial consultation ($79 includes consult and 1 year CHUSA membership).  Give it a shot, what do you have to lose if not inches?  Call us at 251-607-0040 for more information.