In case you missed it, this months workshop I opened up what my sister, an ex-Pharmacist, went through to treat thyroid cancer (notice I didn't say "her" thyroid cancer). Â I'll tell you now so you don't disregard and miss it, she did NOT do traditional chemotherapy, radiation therapy, and surgery as was recommended by her oncologists of course. Â She had to get outside of the United States to get the latest breakthrough treatments the big pharma companies here are trying desperately to black out.
This was also the first time doing a workshop on Facebook Live.  Let's just say, it was popular.  Before the event was over we had almost 500 people watching on Facebook!  At the time of this post there has been 2,300 views on Facebook Live and it's just gone out to YouTube where we have another approaching 1,000 subscribers.  So without going into all the detail I urge you to subscribe to our YouTube channel HERE and watch the full workshop titled "Cancer Censored with Dr. Mike Bucknell" featured on the landing page.  While you are at it I strongly recommend watching "DEAFicient" and "Big Fat Lie", two of the most important and most popular workshops to date collecting more than 92,000 views.  Also, put Monday December 12th on your calendar for our next workshop "Your Thyroid Reconnected" with Dr. Kelly.
---
MASSAGE THERAPY vs CHIROPRACTIC CARE by Dr. Kelly Eubanks

Do you question the purpose or effectiveness of chiropractic care?  How about massage therapy? Most people don't question massage and this always baffles me.  Most people are quick and comfortable to get massages for tension and stress relief, and to help with tight musculature, yet many still hesitate to see a Chiropractor and get adjusted.  As a Doctor of Chiropractic, I think massage is great, but first you have to realize WHY those muscles are tight in the first place.  They necessarily by anatomy and physiology are tight in response to either abnormal posture, an opposite muscle weakness, injury, or a misalignment in the spine (subluxation).  These are all issues that massage will not typically fix.  As Chiropractors, we address these root causes and work to fix them as opposed to masking or reducing the symptoms with therapies, medications, etc.  Without working on the root cause of muscle tension, these muscles will continue to tighten due to the abnormal stresses placed on them.  Trigger points in muscle definitely need to be addressed, but I think this should always be in conjunction with Chiropractic care to analyze posture, assess X-rays, and work on these misalignments.  I'm a fan of massage therapy, but it is titled therapy for good reason.  The two fields are no more interchangeable than dentistry and orthodontics.
---
REDBAR Night now more appropriately rebranded CCC Dinner

If you've never been, our dinner events are one of our primary methods of community engagement in educating the value, practices, and principles, of Chiropractic. Â We realized that calling it "REDBAR Night" didn't effectively communicate this purpose very well….ok, at all. Â So we sat together, pondered long and hard, and came up with this stunning revelation to call it exactly what it is! Â The event logo represents the idea of linking together because nobody outside of YOUR reach is going to get exposed to the revelation unless YOU make that happen (maybe there is a change someone else will bring them first, but why let them get the honor). Â So please, help us in this movement to educate our community one household at a time so we can end the reliance on after the fact drugging and cutting, and help people realize their full health potential. Â The next dinner is next Monday the 5th so call your friends now and let us know how many you plan to bring so we can reserve your tables! Â Our number is 251-607-0040.
---
The Liberation Online Health Store is now ready!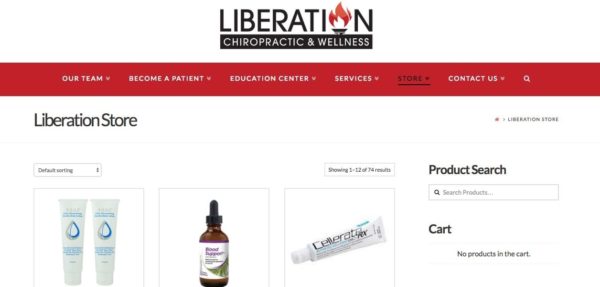 If you haven't been on our website in the last year you haven't seen the incredible rebuild.  Loyalty Systems has done an incredible job giving us exactly the design and functionality we wanted representing each of our 7 Homeostatic Essentials.  Now, our web store is live allowing you to order securely and have products shipped to you.  This was a necessary step due to demand again from our YouTube channel where people from all over the U.S. have asked how they can order the products mentioned in the videos not available on Amazon and other major sites.  For a list of the most important daily supplements see our post DEAFiciencies Fulfilled and scroll to the bottom.